Choose from five party packages as well as multiple add
–

ons

,

including bounce houses

,

balloon arches

,

and much more

!
Book Now
Contact Us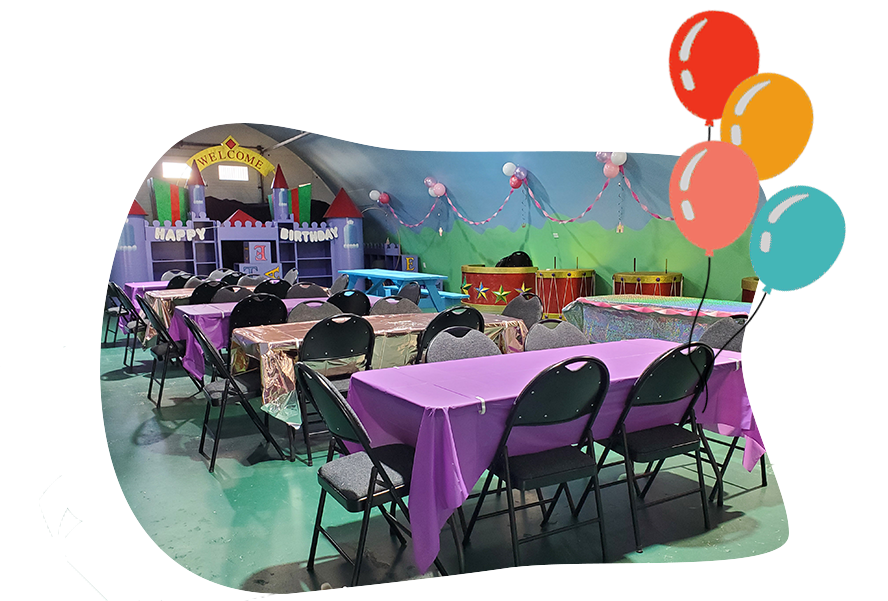 Za Rates
Unless otherwise noted, all partiez get exclusive use of our 2500 sq ft Party Houze for two hourz so that you can
enjoy the company of your guests and celebrate your bugz. That's the biggest party room in town!
We provide a variety of packagez to suit your needs and budget.
Ground Level ($250)
~
• Standard set up and clean up
• Can bring your own cake OR cupcakes OR cake pops (no additional fee)
• Can bring your own food ($50 surcharge will be applied)
• Unlimited play for up to 8 bugz in our Play Village
• Additional bugz $15 each
• Additional add-ons available
Short and Sweet ($150)
~
• Same as a Ground Level Party, but only one hour in Za Party Houze!
• Available weekdays from 4-5pm ONLY
• Unlimited play for up to 8 bugz in our Play Village before your party
• Additional bugz $15 each
• Additional add-ons available
Swinging Up ($350)
~
Includes Ground Level PLUS:
• Decorations/tableware in theme of choice
• Zaaz Play Assistant to help with your party as needed
• Music
• Popcorn, water, and juice
• Additional bugz $25 each
• Additional add-ons available
Reach for
the Sky ($450)
~
Includes Ground Level & Swinging Up PLUS:
• One regular goodie bag per bug
• Coffee and tea for the adultz
• 1 veggie platter and 1 fruit platter
• 1 waffle sandwich platter
• Personalized gift for the birthday bug!
• Additional bugz $35 each
• Additional add-ons available
Night Crawlerz
($550)
~
• Get the ENTIRE Play Village all to yourself after hours!
• Standard set up and clean up
• Can bring your own cake OR cupcakes OR cake pops (no additional fee)
• NO additional outside food allowed (except with the Pizza Party add-on)
• Additional bugz $15 each
• Additional add-ons available
Book Your Party Today!
Questions? Email us!
Need an invitation for your Zaaz party? Here's a FREE printable template!
We do external rentals too! If you don't want to have your party at Zaaz but still want to have a bounce house or other activities, a balloon arch or other decorations, or even if you just need a few extra tables or chairs, Zaaz is your one stop party shop!
Contact Us Today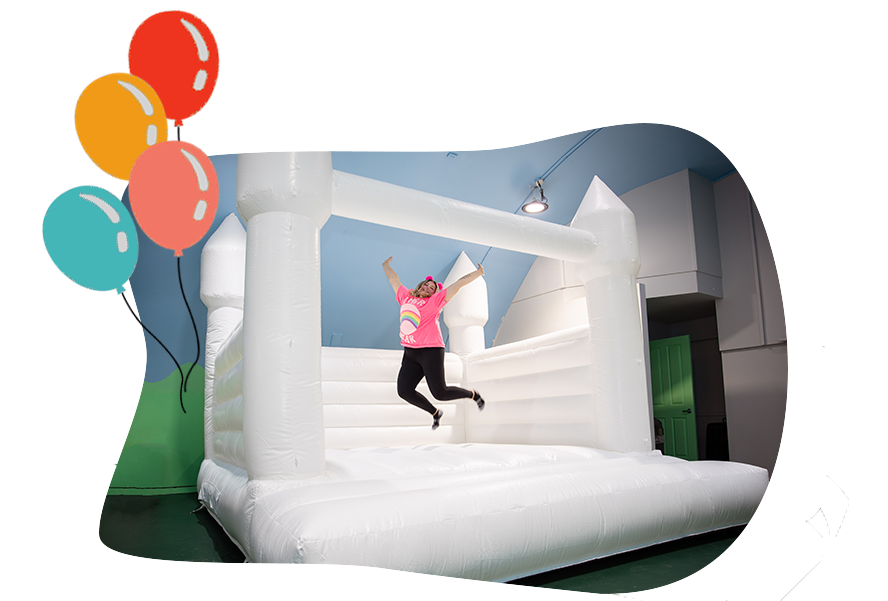 Adding to the experience
Tracey Mounsey photography
Face painting
Custom catering menu
Premium goodie bagz
Bounce house
Additional play assistantz
Game/activity set up
Specialty/premium decorationz
Balloon arch
And more!
Full Add-on Menu
Catering Menu

Our partiez are bigger than your bug's imagination!
What you should know:
Za Party Houze is a separate building from Zaaz Eatery & Play. Please relay to your guests that your party will be at "Za Party Houze at 423 Mount Paul Way."

All party participants require a party wristband; memberships do not provide free admission to partiez.

All children and adults must have a signed waiver to play next door in the Play Village.

It is highly recommended that all party guests (or their parents) sign waivers ahead of time. Please ask them to go to ca, and in the drop-down menu, select "waiver" to complete it on their personal phone or computer in advance.

You're welcome to add on to your experience at any time before your party, but please be aware that a late order fee may apply to last-minute food or decoration changes (three or fewer days before party).

Partiez are allowed to bring a cake OR cupcakes OR cake pops for no additional charge. If you wish to bring any other outside food, a $50 self-catering surcharge will be applied to your total.

Zaaz Eatery & Play is happy to provide you with food and drink options for your party. Our Eatery is able to cater to all diet types, allergies, and ages; please let us know of any specific food requests when booking your party.

Age appropriate food options will be provided for partiez of Bugz two years of age or under.

Please bring reusable containers for any leftover food. Zaaz does not provide "to-go" containers.

Professional photography allowed within Zaaz's Play Village, Eatery, and Party Houze is exclusive to Tracey Mounsey Photography.

The Party Houze has a "no outside shoes" rule. Guests are welcome to bring a pair of slippers or clean inside shoes to wear inside the building.

Parking is available in the front and rear of 423 Mount Paul Way for your guests. This is on a first come first served basis and is shared with Zaaz Eatery & Play guests.
Additional children (Bugz) can be added to any party package for an additional price ($15 each for Ground Level partiez, $25 each for Swinging Up partiez, and $35 each for Reach for the Sky partiez).

Bugz under the age of 1 are excluded from the total count of children attending the party.

A 50% deposit is required at the time of booking. All deposits are non-refundable. If a party is canceled due to Public Health orders, the deposit can be kept on credit or transferred to a gift card. The remaining balance is payable on the day of the party.

If you need to cancel, reschedule, or reduce (lower the package tier) your party 48 or fewer hours before your party start time, a charge equivalent to your deposit amount will be added to your booking (or your original deposit will be kept if cancelling), AND you will be charged for any food platters or charcuterie boards that were ordered for your party, including Reach For The Sky platters and custom menus. Food orders are placed and decorations are prepped up to one week in advance, and last-minute changes to the party schedule can result in wasted food and decorations.

Adults are responsible for the children at all times and in all locations. Please no rough play allowed. Kindly advise children to not throw toys or other objects. Any damage to the Party Houze, Play Village, or the items therein may be subject to charges.

Children who are unwell during their visit will be kindly asked to not enter the Play Village due to risk of infection to others. We are a baby/child safe environment which includes doing our best to avoid any transmission of any kind to other families. Sorry, but no exceptions will be made as hygiene and safety are core values of Zaaz.

Our host will start clean up 10 minutes prior to the anticipated end time of your party. Any partiez that go over their allotted time may be charged $50 per 15-minute interval. If you are done with the Party Houze prior to your end time, please let the host know.

Additional clean up charges may apply for piñatas, glitter, and confetti.